We're Renovating!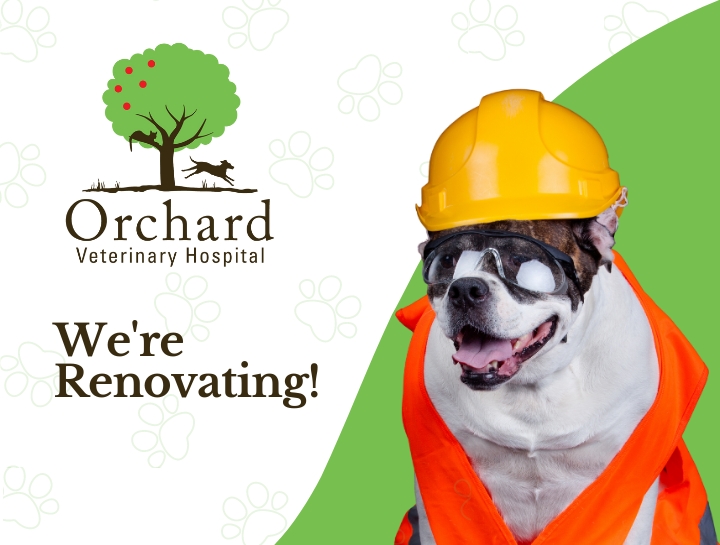 June 27, 2023
We are thrilled to announce that we are renovating! Renovations began on June 19, 2023, and are expected to be complete by the Fall of 2023. Our renovations will include new exam rooms, new flooring, a bigger and more functional waiting room, treatment area, and lab area.

Orchard Veterinary Hospital has gone through many changes since opening in 2007, but our core mission remains the same: to provide our patients with the highest quality of care possible. The newly renovated space will better support our ability to provide this high standard of care.

Your continued support of our practice has allowed us to flourish and we have outgrown our current space. Dr. Megan Hogan joined our amazing doctor team on June 26th! With the additional space and new team members, we hope to be able to meet the growing need for veterinary care in our community and welcome new clients again soon.

We hope to move forward with our expansion and renovation process with minimal interruptions to our day-to-day operations. However, please be advised that there may be a little noise and we will share our front entry with our contractors. During the later phases of our renovations when exam rooms are being painted and flooring is being replaced, we may convert to curbside appointments to continue to provide care with minimal inconvenience to our clients and patients.

Thank you for your patience and understanding throughout this process. We can't wait to see you and your pets in our updated space!
Be sure to follow us on Facebook for updates about our renovation progress.
Call (802) 658-2273 with any questions or to schedule an appointment.